The Last Gardener
Friends, I have some pretty big news to share.
 On July 28th, I am releasing my first short story anthology!
 The Last Gardener (…and other stories), is particularly special to me. Some of the stories were written at a point in my life when I had no idea what I wanted to do with myself. They were edited in a writing class I signed up for, which also led me to meet some of my favourite writing and critique friends.
The anthology is made up of 6 short stories. Three of them are inspired by the fantasy genre, while the other three are contemporary fiction. Despite the difference, they all contain themes of love, loss, and longing.
It will be available on Amazon (paperback & ebook), and Kobo (ebook).
Shall we check out the cover? Yes. Yes we shall.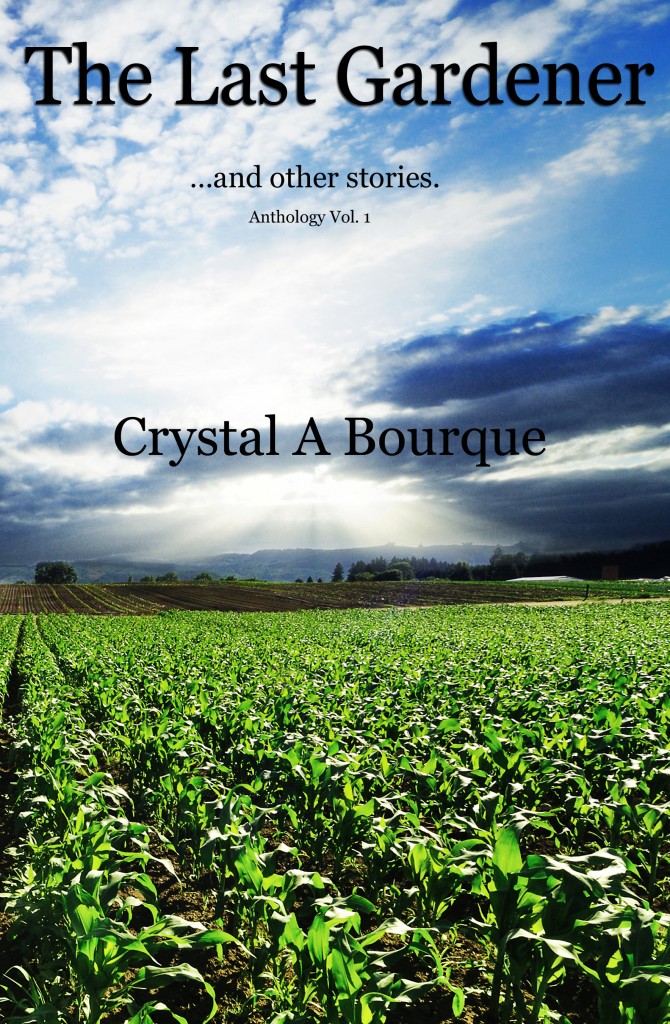 I am very excited to share this project with all of you, which is why I'm running a contest!
Comment on this post by July 25th to win a signed paperback copy of Eve's Return. You are eligible for an extra entry if you share this post on Facebook (by clicking the handy button at the end of this post), or Twitter (@everythingstemp). If you do decide to share via social media, please email me at info@everythingstemporary.com with the link to help me keep track.
As always, thank you for your continued support, and good luck!
As an extra bonus, here's a little excerpt from one of my personal favorites, Mein Wahnfried:
Do. Do. Sol. Sol.
"Amalie." A warm voice rips me away from my thoughts, back into the harsh light of the sun. I rise to my feet.
A man approaches me. From the way he favors his right foot, I know it is Heinrich. His shuffling gait has worsened since I saw him last. His thick eyebrows and gray hair are as wild as ever.
"Welcome to Wahnfried, mein singvögel!" A smile lights up his face as his arms encircle me. My cheek presses against the rough surface of his tan, tweed jacket. "You look lovely."
I roll my eyes as he releases me, and wonder what he really thinks of his 'songbird'. I haven't bothered to change out of my sweat pants and faded t-shirt with the gaping hole in the armpit, since I landed in Bayreuth. Three days ago. Come to think of it, the only thing I've been able to do since I've arrived is sleep. My mother would have a fit if she knew.
You're a rich woman now, I tell myself. You can do whatever you damn well please.
"I should tell you something," Heinrich says, taking me by the arm. "I will always be a great fan of yours."
I let him lead me inside, through the lobby and into the circular Grand Hall. I stare at the alternating grey, blue-grey and white tiles as they blur past my feet.
"I would have given you this tour, even if you weren't a family friend."
I attempt a smile. I end up grimacing.
Do, Do, Sol, Sol.
"We should begin, ja?" Heinrich gives my arm a gentle squeeze before letting go.
"Welcome to Wahnfried," he says again. This time, he gestures to the walls. I don't know why. Maybe he thinks I don't know where I am. I begin to wonder what my mother has told him. "Construction took place from 1872 to 1874, and it served as Wagner's primary residence until his death in 1883. As his benefactor, King Ludwig II paid for all of the. . ."
My upper lip curls. I can't help but despise the rich tones that flavor his voice. The last thing I want is a history lesson.
"And here," Heinrich continues, stopping in front of one of the four busts on display, "is the lovely Cosima, Wagner's mistress and eventual second wife." He chuckles. "I feel I should mention she wasn't all that innocent herself. She was also married when they met. These two made quite a pair, don't you think?"
Do. Do.
I stare at the angular features of Cosima. The chalky whiteness of the carved granite is a stark contrast against the red walls. Her lips are parted, as if the artist had captured her mid-sentence.
Sol. Sol.
"Come now," Heinrich says as he tries to lead me away. I don't move. He has to tug my arm to get me going. "There is still much to see!"
Heinrich lets go when we are standing in front of a chocolate brown, baby grand piano. Its ivory keys stand out from its dark case, the varnish shines beneath the light.
"Wagner composed Tristan und Isolde on this," Heinrich tells me. "Your mother told me it's your favorite."
I wonder if he would speak of my mother using that gentle, beautiful tone of his. Would the timbre change if he knew the woman had forced me to come here because she thought it would help me, 'figure things out'? She had even threatened to send me to a psychiatrist if I didn't, 'get my act together'.
I look back at the bust of Cosima's. My hands itch to pull her face down from its pillar. I want to smash it against the tiled floor, to watch it break into a thousand pieces.
I wonder if I'd find anything hidden inside, or if she's just as hollow as I feel.
The following two tabs change content below.
Crystal Bourque
Crystal Bourque is an up and coming, new adult, urban fantasy author. She is obsessed with all things fantastical, so much so that she has a recurring dream about being a princess with a sword. When she's not busy writing, she loves trying new recipes, plotting her next travel destination, and singing loudly.
Latest posts by Crystal Bourque (see all)
8 responses to "The Last Gardener"