Word on the Street – Toronto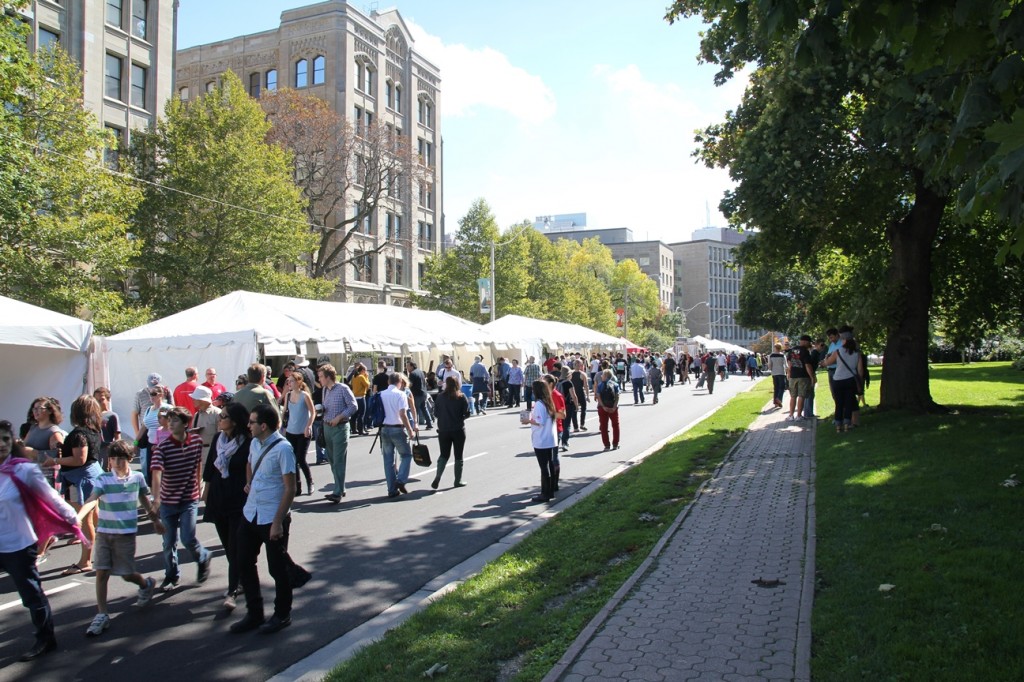 Last Sunday was Word on the Street – Toronto. It also marked my first ever, author booth at a festival.
I decided to break down my experience into what I feel are the most important elements of working a booth at a book festival. While selling a bajillion books might equal a positive experience for some, I personally think that there are many other elements that determine success.
Stay Positive
When I woke up at ten to six, my first thought was, "what's that sound?" It was rain, pounding against my bedroom window.
On the way to Queen's Park Circle, it rained so hard, my Dad had trouble seeing streetlights. As usual, we arrived much too early to start unloading, so we stopped for a little breakfast (and by breakfast I mean ALL OF THE COFFEE). As much as I wanted to start setting up my booth, shake my fist at the sky, and rage about the weather, it was relaxing to sit and talk about our game plan instead. For an hour we circled around the unspoken truth:
If the skies didn't clear, the event was going to be a bust. No one was going to show up. If no one showed up, the money I spent would go straight into the sewers with the rest of the rainwater.
Here's the important bit:
We could have turned into Negative Nancy's, but we chose to talk about what we could control instead. We were determined to see things through.
When we arrived at our booth, the rain continued to fall and flood my section of the tent. We declared ourselves geniuses for picking up plastic table covers the night before, and started pondering the logistics of selling books via canoe.
At this point, it was obvious that several vendors were not keen on sticking around. Whispers of packing it in and heading home were rampant, but the majority of us decided to suck it up and stick it out.
About half an hour before the streets were open to the public, the rain stopped, the clouds parted, and we had glorious sunshine for the rest of the day. Overall, 201,000 people attended the event.
Positive Attitude = 1
Negative Attitude = 0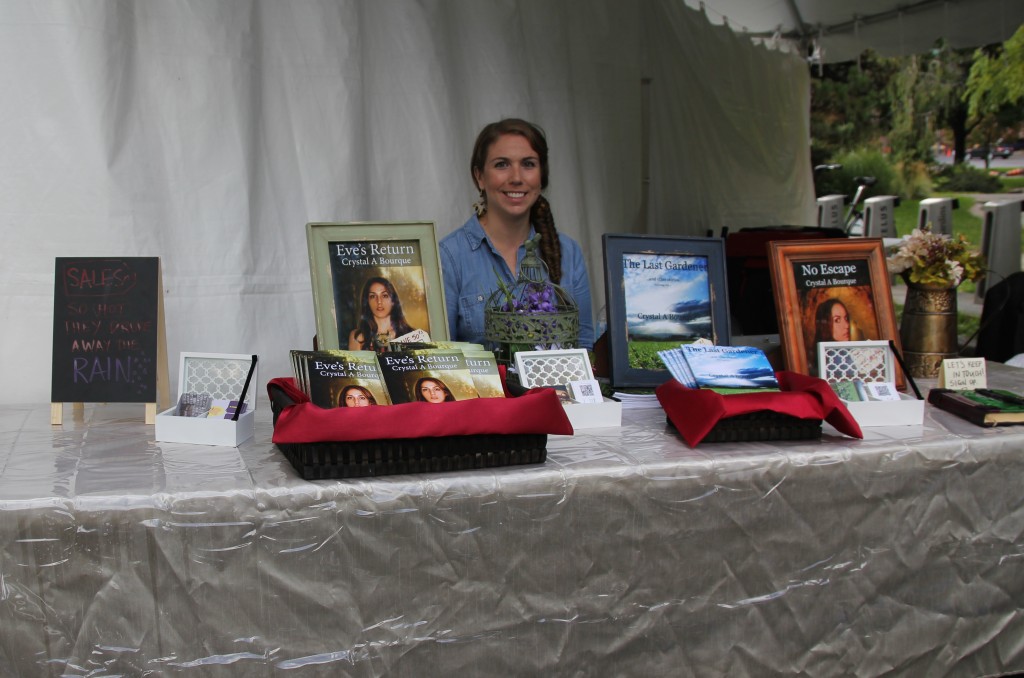 Marketing/Networking
I will straight up admit that I need to work on marketing. It's something that I didn't really prepare for when I embarked on my direct publishing journey. It's something I now know (especially for my second book) that I absolutely need to factor into my timeline.
It's hard work building an audience, and so I attempted to update my Twitter and Instagram feeds with fun tidbits throughout the day.
The truth is, when you're manning a booth, the last thing you want to be doing is hammering away on your phone. It doesn't exactly scream 'sociable author'. I decided marketing would have to wait until later.
What I am much better at, is talking to people. I love meeting new readers. Hell, I love meeting people in general. If you are into having a conversation, then I'm your girl. Especially if that conversation revolves around books. This festival gave me the opportunity to meet hundreds of wonderful people from all walks of life. Who knows how many of them will become a fan?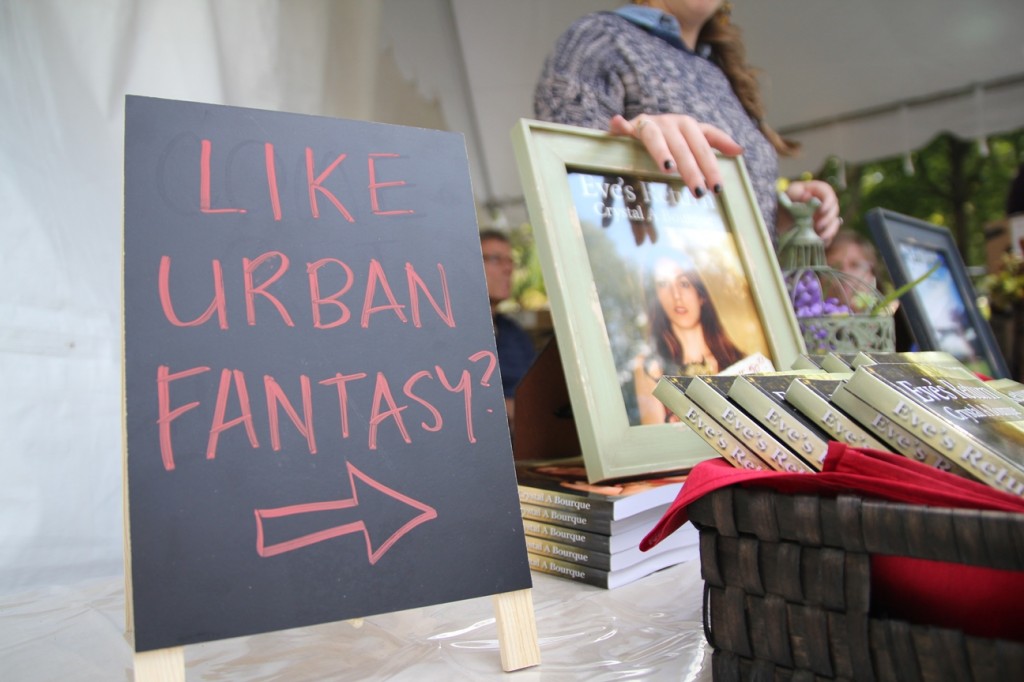 Listen
Aside from the booths full of beautiful books, at an event like this, there are always so many incredible speakers.
Luckily, my booth was right beside the New Narratives Tent, so I was able to hear quite a few authors speak about their work.
I also managed to briefly visit the Humber College School for Writer's tent. In 2013 I took their Writer's Correspondence course, which led me to complete and then publish Eve's Return. I dropped by just in time to hear a few of their faculty's finest discuss their writing process.
I also listened to what my booth visitors said. There are a few details of my presentation and pitch that I am going to tweak for my next show in November. True, I could choose to ignore the feedback I was given, but to be honest, most of it was very constructive. Good, solid advice is more precious than gold.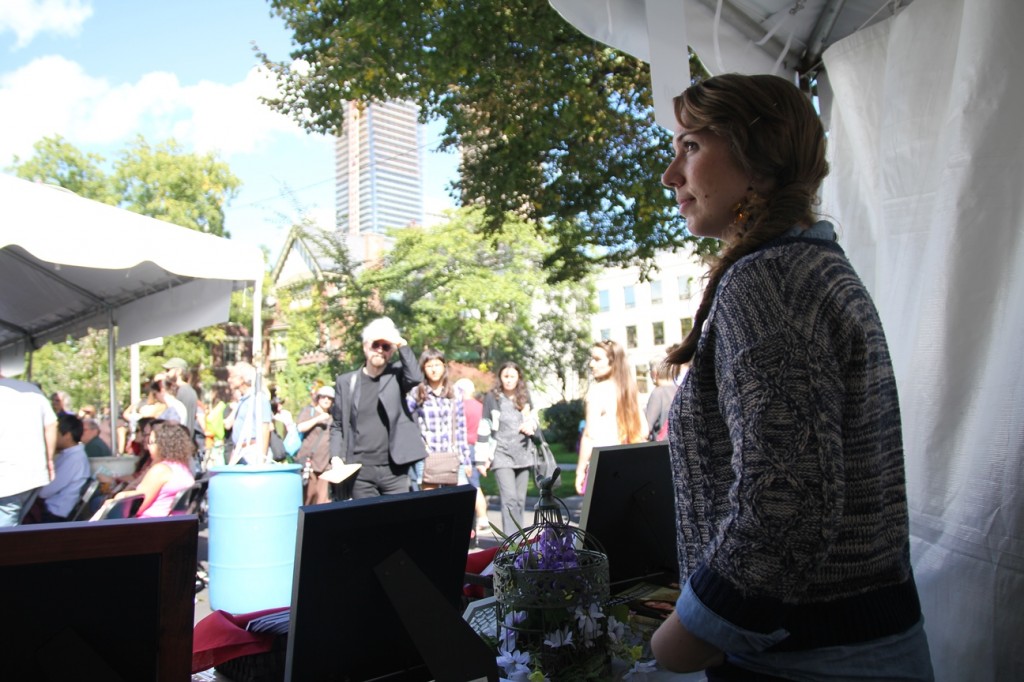 Have Fun
For the first couple of hours I refused to sit down. I wanted to look alert, and make sure that everyone walking by knew that I was a serious author. The truth is, in the afternoon, when I (finally) started to relax and enjoy the company of the people around me, visitors came by on their own.
If you have an attractive booth, people will take a second look. Heck, if people like books, they tend to stop by just because they are genuinely interested in learning more about what you have to offer. Encourage them to touch and read, have business cards on hand, and a smile on your face. I guarantee you'll end up having a great time.
***
Overall, I loved the experience and am strongly considering doing it again next year. Before I sign off, I want to thank, from the bottom of my heart all the people who helped get me to and from the festival, as well as some good friends who took some time out of their Sunday to give me a break so that I could shovel food into my mouth. Your support means the world to me!
The following two tabs change content below.
Crystal Bourque
Crystal Bourque is an up and coming, new adult, urban fantasy author. She is obsessed with all things fantastical, so much so that she has a recurring dream about being a princess with a sword. When she's not busy writing, she loves trying new recipes, plotting her next travel destination, and singing loudly.
Latest posts by Crystal Bourque (see all)
2 responses to "Word on the Street – Toronto"