An Interview with Ev Bishop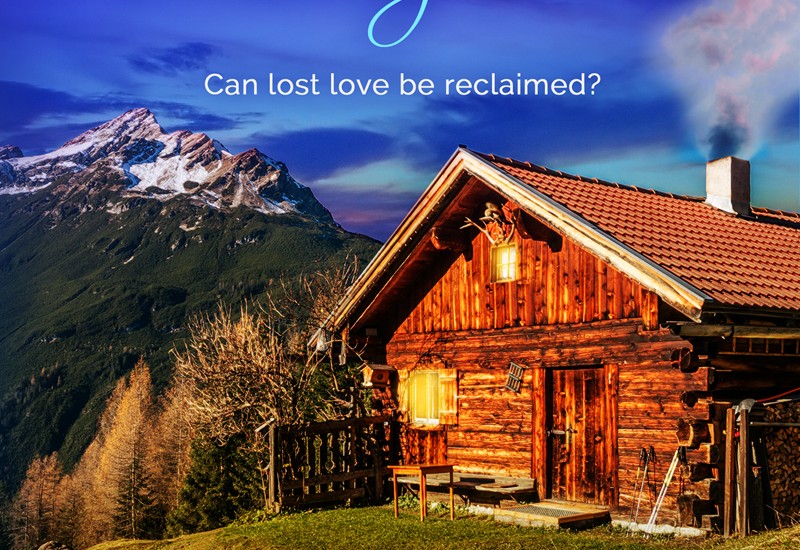 I had the pleasure of meeting Ev Bishop last year at the Surrey International Writers Conference through a mutual friend. I discovered she had self-published a novel, Bigger Things and after doing a bit of digging (and reading), I knew I had to feature it on Goldilocks & the 3 Cares (click here to check out the episode).
On Tuesday, she released, Wedding Bands, Book 1 in the River's Sigh B & B series. Isn't the cover gorgeous?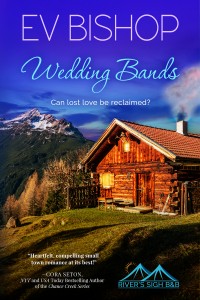 As a fan of her work (and someone who is working towards publishing her second book) I knew I wanted to find out more about why and how she writes. I asked if she would like to make a guest appearance on the blog, and she was gracious enough to answer a few of my questions.
Q: Welcome to Everything's Temporary, Ev! Can you tell us a little bit more about yourself?
Thank you for having me, Crystal. I loved your answering your questions! It was thought provoking and good for me to delve into the whys and hows of my own writing.
I'm a longtime columnist with the Terrace Standard, and my other non-fiction articles and essays have been published across North America. My true love, however, is fiction, and I write in a variety of lengths and genres. If you're a short story lover or read other genres alongside Romance, visit www.evbishop.com to learn more.
Some of my short story publications include: "Not All Magic is Nice," Pulp Literature (forthcoming), "The Picture Book," Every Day Fiction Magazine, "Riddles," 100 Stories for Queensland, "On the Wall," Every Day Fiction Magazine, "My Mom is a Freak," Cleavage: Breakaway Fiction for Real Girls, "HVS," "Red Bird," and "Wishful," (available through Ether Books).
Women's Fiction novels include Bigger Things (Winding Path Books 2014), which is available in digital or paperback wherever books are sold, and Mosaic (forthcoming). I also write romance under the pen name Toni Sheridan (The Present, Pelican Book Group, 2012, and Drummer Boy, Pelican Book Group, 2014).
I love to connect with other readers and writers, so please consider subscribing to my newsletter and/or visiting me on Facebook and Twitter.
Q: Why do you write?
Oh, for many, many reasons—and a good question, one that I ask myself semi-regularly in order to refocus my efforts, to motivate and re-inspire myself.
In no particular order of importance—or rather, in order of importance that changes from day to day with whatever's going on in my life—here are my primary motivations:
Writing is pure fun! No matter what the genre, how picky and unfamiliar, thus arduous, the non-fiction topic, or how dreadfully thick a bog I may have hit in a plot, I just really love working with words and playing with stories.
Writing is a great comfort to me. Everyone has hard things they go through and while, yes, I suppose I'm saying I use writing as an escape at times, I also mean that seeing stories come out of me, out of my experiences, and out of the questions I've asked when confronted by my pain or the deep pain of others gives me comfort and a feeling of connection. We all have stories; it's the one thing that all humans have in common.
Writing is cathartic. In terms of mental health, you can't get a less expensive or more holistic form of therapy!
Though I hope to one day make my living fully from my fiction writing (so I have time to write that much more!), writing is not (and never will be) about the money for me.
Q: What does your writing process look like from start to finish?
A big mess! 🙂
I use Microsoft Word on my Mac, even though I've tried all sorts of fancy software programs. My brain is just hardwired to create in simple text documents, I guess. I keep a notebook, a planner, and sticky notes close at hand—and still end up scribbling thoughts and add-ins and what ifs, etc. on random bits of paper, like envelopes, bills, and so on. I also have a huge bulletin board. It too gets covered in notes for works in progress, and ideas for new essays or stories. As I use free-handed bits in current pieces—or create new things from the jotted old things, I cross them out or crumple them up and throw them away.
As you may have inferred from the above, I'm not someone who crafts nicely organized outlines either. I write first drafts for all fiction by the seat of my pants. About half the time, this works great and a solid structure emerges that I can hone and tweak during the editing process. The other half the time, I hit a wall—generally about midway through the story, at which time I make what I call a story map, just point form notes or simple sentences, laying out where the story needs to go, what each character needs to accomplish or set in motion, to get to the end.
In my non-fiction work, like my fiction, I often start with one line or image or thought that triggers the whole, but I am more apt to jot some form of very loose outline at the beginning.
When I have a piece put through its edits (generally four drafts for fiction, then final polish; two drafts for non-fiction, then final polish; poetry—a world of its own with no set process), one of four things happens:
I submit it to whomever assigned it.
I put it away until whenever (if ever!) I decide I want to do something further with it. I don't try to publish everything I write.
I indie publish it—a whole other adventure!
I start submitting query letters for it, to—hopefully—have someone else publish it.
Q: Where is your favorite place to write and why?
In my office, at my stand up desk, though I occasionally enjoy journaling on my couch or in bed with a glass of wine, or out near a river or lake with to-go coffee.
I can—and do—write anywhere, but I find my brain is trained to write on command when I show up to work at my office, whether I feel particularly inspired or not. Think of it like Pavlov's dogs—the bell that gets my creative juices drooling is standing at my desk and having my monitor spring to life. I'm always amazed at how the muse will show up if I show up.
Q: Can you tell us a little bit about Wedding Bands?
Ditched by her high school sweetheart, Callum Archer, on the night they're supposed to elope, Jo Kendall casts out on her own, brokenhearted.
Over the years, Jo reels in a life she loves, centered on the outdoors, fishing (favoring a lucky wedding band lure), and her fine dining restaurant—a life that crashes away when her husband and business partner cheats her, leaving her bankrupt and alone.
Then her uncle dies, bequeathing Jo and her sister, Samantha, his rural property. Jo returns to Greenridge, determined to build a new business and permanent home—without the help of a man. Unfortunately Samantha wants her inheritance in cold, hard cash and hires a lawyer to get it for her, a lawyer who turns out to be none other than Jo's long-lost love, Callum.
Jo's fledgling plans—and her heart—are at risk once more.
If Jo can fight her insecurities, she might end up with a wedding band that doesn't come with a sharp hook. But should she risk everything she's worked for, yet again? Before she can decide, she needs to know: can a lost love truly be reclaimed?
Q: What inspired you to write Wedding Bands?
Is it terrible to say I don't know? I never really know what inspires any story. A random character speaks in my head. A line of conversation triggers a what if. . . . A bit of scenery or a physical sensation evokes an idea. . . .
I think Wedding Bands was born one fall evening that formed the basis for the description in chapter one. I have a big property and I was trekking across it, leaves crackling under my feet, enjoying the crisp, invigorating chill and the scent of wood smoke and the Sockeye I was smoking . . . Jo came by for a visit in my head. The rest, as they say, is history.
Q: What was the hardest part for you to write, and how did you get through it?
Hmmmm . . . this story, unlike some, flowed pretty quickly.
The biggest thing I have to overcome in any piece, however, is two-fold: my insecurity that all my writing is dreck and the idea that whatever I want to write next is waaaay better and I should put the current project on hold and get into the new (better, ha ha) idea right away.
That way of thinking meant that for many years, I was a writer with a lot of works in various states of unfinished. When I committed to completing every story, no matter what, I found that my confidence and my writing skills improved (knowing you're not going to quit, and having finished novels to prove it, is very motivating and affirming—and the sheer practice of writing and writing and writing will always build your skills).
Q: What are you working on next?
A sequel to Wedding Bands, which will be Book 2 in the River's Sigh B & B series: Hooked.
Q: Where is Wedding Bands Available for purchase (I've already got my copy!)?
You can buy Wedding Bands (eBook) here:
Amazon.com ~ Amazon.ca ~ Amazon.co.uk
KOBO ~ For your NOOK at Barnes & Noble ~ Apple/iBooks ~ Page Foundry ~ Scribd
Don't have an eReader and/or prefer print books? Wedding Bands will be out in paperback at the end of the month, available for order at your favorite brick and mortar bookstore.
 *****
Do you have a question for Ev? Let her know in the comments below!
The following two tabs change content below.
Crystal Bourque
Crystal Bourque is an up and coming, new adult, urban fantasy author. She is obsessed with all things fantastical, so much so that she has a recurring dream about being a princess with a sword. When she's not busy writing, she loves trying new recipes, plotting her next travel destination, and singing loudly.
Latest posts by Crystal Bourque (see all)
2 responses to "An Interview with Ev Bishop"