Motivational Monday: Jackhammer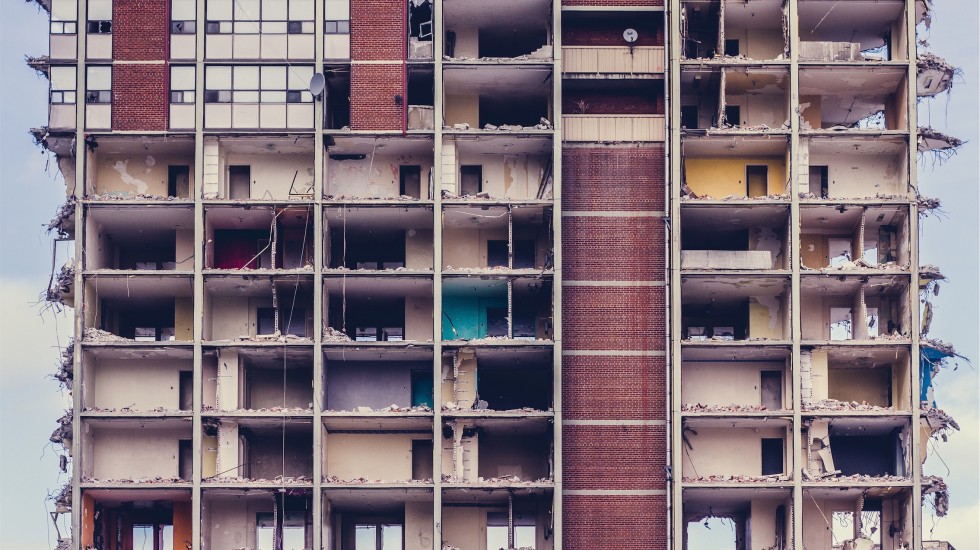 For the past year and a half, I've had to get used to the fact that a condo was going up just a few hundred meters from my building. During this time I got used to the noise, and could even sleep through it on occasion. It was why I was quite pleased to learn that in a few short weeks they would be finished, and I could regain some peace and quiet.
Then I got the letter.
The balconies on my building are getting old and need to be replaced. Quite frankly, I'm about as interested in plummeting to my death as my neighbour, so I understand that the work needs to be done. I resigned myself to the fact that I would have to put up with more construction, at least for a little while longer.
I now know this was an inappropriately optimistic thought. Soon after the work began, I discovered that a jackhammer is involved in the whole balcony repair process. I don't know if you know this, but when a jackhammer goes off on your balcony, no matter where you are in your apartment, it feels like they are actually drilling into your brain.
It was time to come up with an alternate solution.
I tried working at a few libraries, Starbucks, Tim Horton's, and other various locations, but only found myself getting distracted. It's crazy how crowded those places can get on a week day! Also, the wifi had a knack for cutting out just when I needed it the most.
I came to the conclusion that I was going to have to spend most of my summer darting between a library and a Starbucks every hour, on the hour. At least that was the plan, until my friend asked me why I had never considered working in a co-share space.
If I remember correctly, my response was, "What the hell is that?"
My lovely readers, a co-share space is a beautiful, magical place where free coffee comes out of a machine, and the wifi never dies. It's a place where people gather to work on individual projects, or to work for a small little company just trying to make their way in the world.
I've been working here for almost two weeks, and I am only disappointed in the fact that I didn't give it a try sooner.
It's not without adjustments. I've had to wake up even earlier to make the commute so that I can get some writing done before starting work. The problem with this is that when I get home, some days I just don't have the energy to write for more than an hour (if at all). It means that I need to write more on weekends and in some cases, adjust my expectations considerably.
However, the benefits are wonderful. I am now in an environment without distractions. My productivity has increased considerably, as well as the quality of my writing. It seems like a fair trade.
Sometimes when you're forced to make a change, it can feel like your world is thrown off kilter. I know mine did, and I spent a few days indulging in a personal pity party because of it. As usual, the forced change showed me that tweaking my routine every once and awhile is probably for the best. If anything, it certainly keeps me on my toes.
The following two tabs change content below.
Crystal Bourque
Crystal Bourque is an up and coming, new adult, urban fantasy author. She is obsessed with all things fantastical, so much so that she has a recurring dream about being a princess with a sword. When she's not busy writing, she loves trying new recipes, plotting her next travel destination, and singing loudly.
Latest posts by Crystal Bourque (see all)