The Graveyard – Places as Characters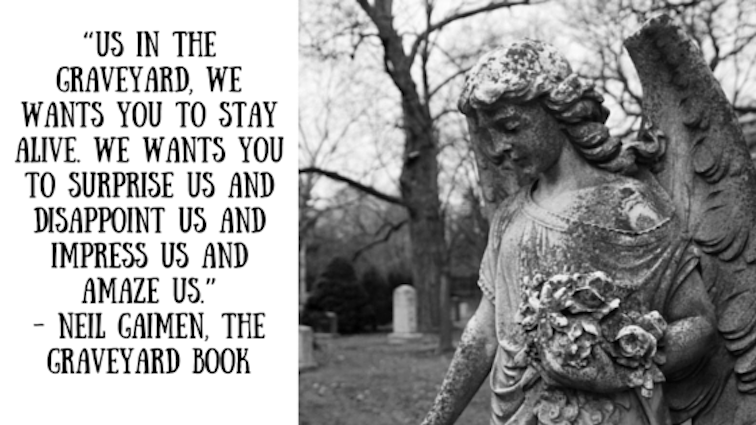 When I was a little girl, I was pretty terrified of cemeteries. A classmate had me convinced that driving past one during the day would shorten my life by ten years. Holding your breath, plugging your nose and pressing your hand up against the window (until you reached the other side) was the only way to avoid such a curse.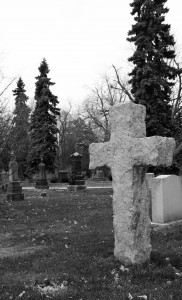 I did this religiously and frequently (for practice) until the time I almost passed out and my parents told me to knock it off.
When I started to travel more, my opinion of graveyards slowly changed. I now find it fascinating to (respectfully) walk amongst the graves, read names and wonder about who the person was and what kind of life they led.
About a month ago, I was working on a scene where two characters visit a cemetery. It wasn't very good. No matter what I did, I just couldn't get the description or atmosphere quite right.
I figured it would be a good idea to visit one to try and turn things around.
At 2200 square meters, Mount Pleasant Cemetery is one of the largest (and historically significant) cemeteries in Toronto. It's part of the Discovery Walks trails, which encourages residents and tourists to get out and explore the city in a new way.
After a little digging online, I discovered that there is also a self-guided tour. It's got a long list of people who left a lasting impact on Toronto and a map to help visitors find them.
Map in hand, I paid the cemetery a visit on a cold and dreary day.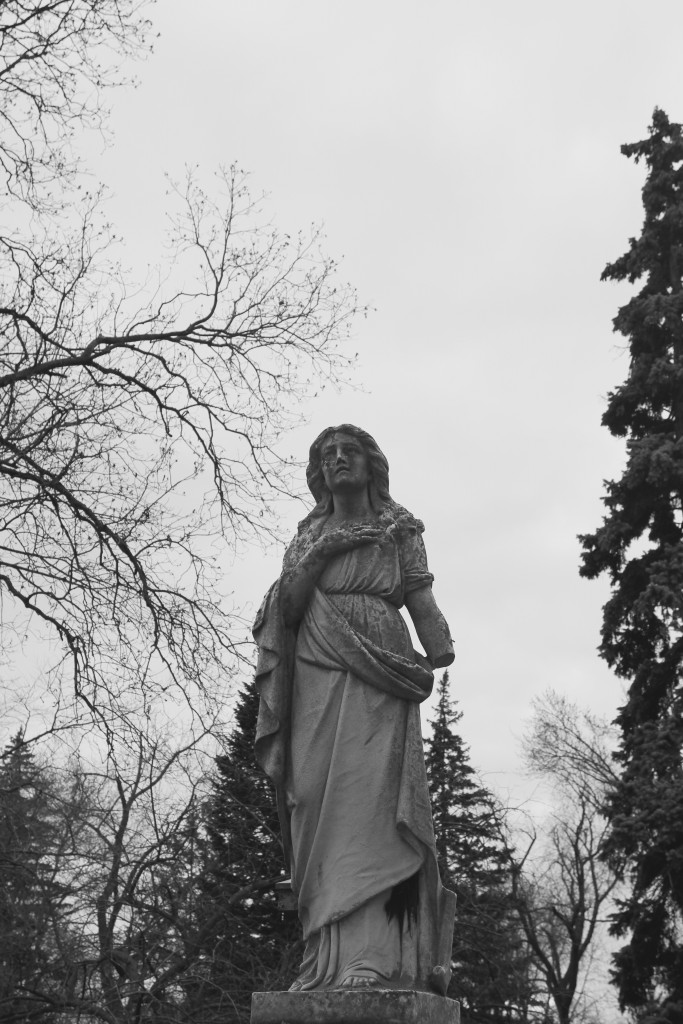 Within fifteen minutes I was completely lost. This isn't unusual for me (in fact, it's one of the primary reasons why I own a cell phone). However, wandering around the grounds felt so odd. I knew I was still in the city, but everything felt muted. The sounds of traffic, the view of apartment buildings and skyscrapers – none of it seemed to belong to the world I walked through.
For the most part, I was drawn to the more elaborate tombstones – the ones with sculptures of angels, men, or women. For some, weather had beaten pock marks into the stone. Others were missing limbs or facial features, and many looked shiny and new.
For each, the usual questions rolled around my mind: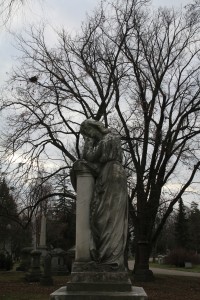 What was this person like? What was their family like? Who loved them?
What kind of life did they lead? Were they happy?
Who brings them flowers? Who keeps their memory alive?
The scene I was working doesn't really have a spooky or creepy vibe to it, but I couldn't help but find inspiration for a number of other ideas.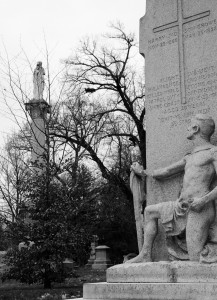 One thing I love to do is to look at something from a different angle. Facing this grave head on (picture on right) the sculpture's eyes focused on something straight ahead. I walked a little closer and suddenly, my perspective changed. Doesn't it seemed as though this man looks longingly at a woman in the distance?
At one point I was stopped by a very nice gentleman who asked if I had seen anything interesting. Thanks to my overactive imagination I assumed, naturally, that he was talking about ghosts. He was, in fact, talking about wildlife, but the conversation made me think of several different ways to use the meeting in a novel or story.
It's exactly what I wanted to happen. Taking a break from my desk to explore and experience a setting helped to clear my mind and move the scene forward. It also set the stage for different ideas that I probably would have never thought of otherwise.
 What about you? Would hanging out in a graveyard inspire you or give you nightmares? Let me know in the comments below!
The following two tabs change content below.
Crystal Bourque
Crystal Bourque is an up and coming, new adult, urban fantasy author. She is obsessed with all things fantastical, so much so that she has a recurring dream about being a princess with a sword. When she's not busy writing, she loves trying new recipes, plotting her next travel destination, and singing loudly.
Latest posts by Crystal Bourque (see all)