Casa Loma – Places as Characters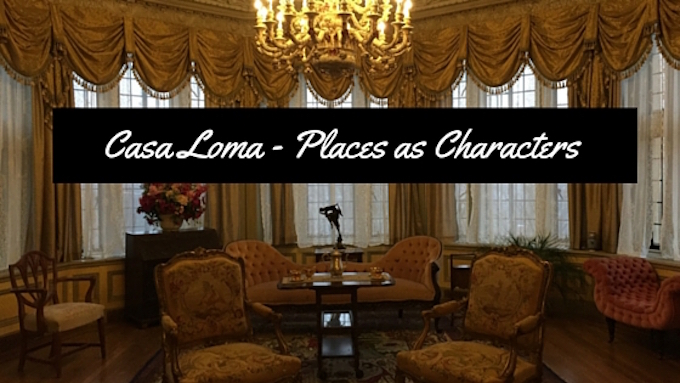 Lately, I've been really interested in checking out local historical sites for inspiration (if you couldn't tell from my latest posts). Since I hadn't been to Casa Loma in years, I figured I was overdue for another visit. I brought my Dad along with me, mostly for the company, but also because he doesn't really have a filter. It makes for some very entertaining times (some of the best lines of dialogue I've written have come out of that man's mouth).
Casa Loma is a Gothic Revival house and Toronto landmark with a long and colourful history.
Born in 1859, Sir Henry Pellatt had an incredible business sense. He helped to found the Toronto Electric Light Company, and owned stocks in the Canadian Pacific Railway and the Northwest Land Company. In 1911, with a fortune totalling $17 million, he decided to build his dream home. Due to changes in the energy market and the start of WWI, the Pellatt's went into debt to finance expansions. Unfortunately, Sir Pellett was unable to recover and around 1924, he was forced to auction off his home for a fraction of the cost it took to build. In 1937 the city decided to turn Casa Loma into a tourist attraction.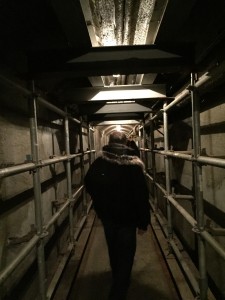 On my last visit, I remember thinking that everything looked pretty run down. This time around, things were very different. Walls have recently seen a fresh coat of paint, damaged marble and scratched wood have been refinished, and there are some major renovations still underway.
One of my absolute favourite childhood memories of Casa Loma is of the many secret passageways, a few of which are open to the public.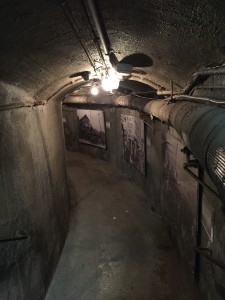 This includes a tunnel that runs beneath the house. I can still hear the sound of dripping water, the musty smell of earth and the cracks trailing down the cement walls.
The first thing my Dad and I did was head for this tunnel.
Due to age, and structural issues, it has since seen some upgrades. The floors are no longer damp or muddy, the walls have been re-plastered and the ceiling reinforced. All of these changes disappointed my Dad, who felt that it removed the character of the place and I was inclined to agree. However, we both came to the conclusion that we're bigger fans of not having things collapse on us while we are underground. As you can see from the pictures, the tunnel still remains pretty dark and creepy.
The recent changes also include new exhibits along the walls of the tunnel. Photographs and brief informational blurbs from the Toronto archives help to flesh out some detail on what was happening in the city around the time of Casa Loma's construction. The tunnel leads all the way out to the stables, where we also discovered some new exhibits (which include awesome, old time-y cars!).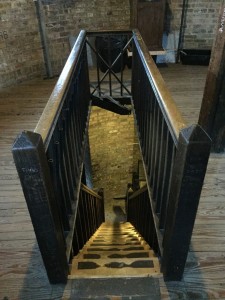 After the tunnel, we headed upstairs. Casa Loma has two towers that one can climb using staircases that are so narrow only one person can go up or down at one time.
Only one of the towers was open the day we went. The other was under construction. This information pleased my Dad greatly. The appeal of tower two is that you can walk outside and take in a view of the city from the roof. Apparently the time he took me and the siblings, the entire thing shook and was pretty frightening to stand on (I don't think safety wasn't as much of a priority in the 80's).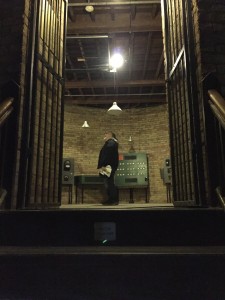 Considering heights make me terribly nervous, I am glad I don't have any memory of this event whatsoever.
Aside from navigating the stairs, I enjoyed checking out tower one. Currently each level is being used in an Escape Game scenario so having the props kick around in the background gave it a WWI/Spy kind of vibe.
There's so much more to Casa Loma than the areas I've described. My Dad and I spent over 3 hours exploring and I'm pretty sure we still missed a few things. Despite this, I loved every moment. While the pictures help to capture some of the feel and look, being able to walk through each room was like stepping back in time – and I didn't even have to leave the city!
I'm not sure what elements will find their way into whatever I work on next, but I can definitely say, I certainly left Casa Loma feeling inspired.
The following two tabs change content below.
Crystal Bourque
Crystal Bourque is an up and coming, new adult, urban fantasy author. She is obsessed with all things fantastical, so much so that she has a recurring dream about being a princess with a sword. When she's not busy writing, she loves trying new recipes, plotting her next travel destination, and singing loudly.
Latest posts by Crystal Bourque (see all)