Character Spotlight: Agares and his Thirty-One Legions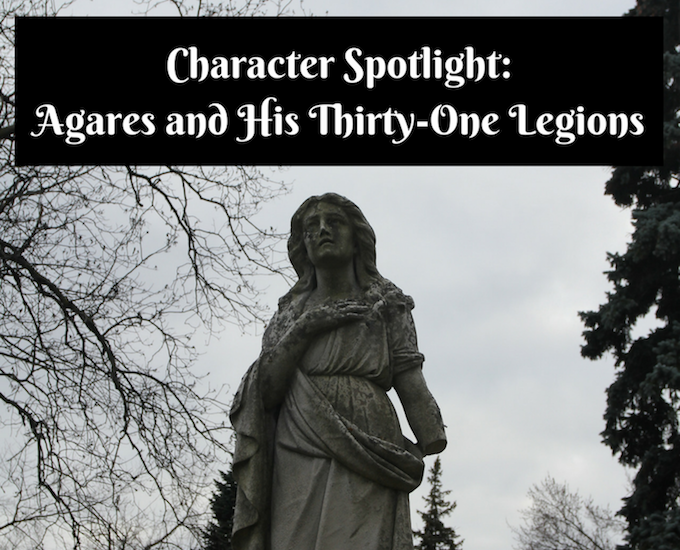 If there's one thing I love about outlining (especially in the world I'm currently writing about) it's that with each book there is an opportunity to introduce new characters. The best part is that these characters have really fun powers and personality traits that give me a lot to play with.
On the other hands, one major dilemma I come across every time I work with a character based on real folklore is deciding which elements to keep and which to ignore. Sometimes I only need specific elements of the character, and in the case of Agares, this also holds true (you can see more examples of this with other characters like, Apophis in Eve's Return). The truth is, since I'm writing in a new setting or world and am not trying to be historically accurate, it can be really fun to twist and shape the character into a new version of its original self.
Such was the case with a character in No Escape (Book 2 of the Book of Eve Series) called, Agares.
What caught my eye with Agares is that he's an older gentleman who loves to teach other languages. The only thing is, his lessons primarily focus on ALL of the swear words. While that element of his personality didn't make it into the book (it just didn't work no matter what I tried) I did take other aspects of his power that end up being a critical component to the plot.
For example, Agares is often seen riding on the back of a crocodile. When I write about animals, I often stick to the classics: some form of cat, bear, or you know, demonic puppies. When it came to Agares I loved the idea of creating a relationship between a "man" and beast that was different from (what I would consider) the norm.
Also, let's not forget that this dude has thirty-one legions of demons at his beck and call. According to Roman standards, a legion is made up of 5,000 men. If we do the math, that means that Agares leads an army of 155,000 demons. The thought of anyone having to face an army of this size made my blood run cold . . . especially if they had to do it alone.
I really hope that you love reading about Agares because I sure loved writing him. So much in fact that you'll get a chance to see him again in the rest of the series . . .
The following two tabs change content below.
Crystal Bourque
Crystal Bourque is an up and coming, new adult, urban fantasy author. She is obsessed with all things fantastical, so much so that she has a recurring dream about being a princess with a sword. When she's not busy writing, she loves trying new recipes, plotting her next travel destination, and singing loudly.
Latest posts by Crystal Bourque (see all)