Being in the Right Place at the Right Time: The Woman in Gold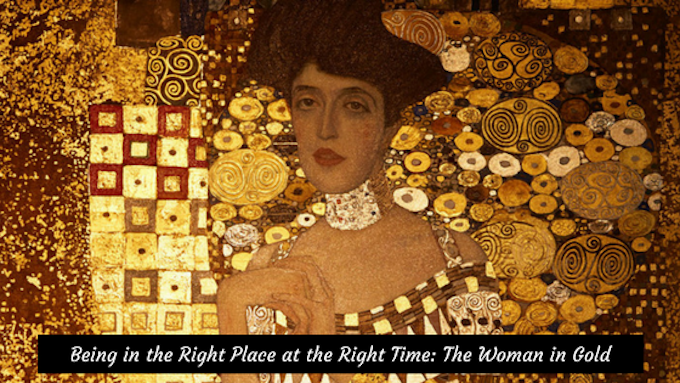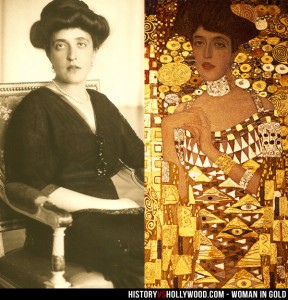 On a flight home from a family vacation two summers ago, I found myself in need of some in-flight entertainment. A huge fan of Ryan Reynolds and Helen Mirren, I quickly spotted the The Woman in Gold amongst some other films that I had already seen.
The Woman in Gold is based on a true story. In 1938, the Nazi's invaded Austria and stole many things from many people. Some of these stolen items included, art. Gustav Klimt's, Portrait of Adele Bloch-Bauer I belonged to a jewish family. The niece of Adele Bloch-Bauer, Maria Altman, managed to escape Austria with her husband. The Woman in Gold tells the story of how she gets that painting back.
Within seconds of watching the movie, I was hooked . . . But not for the reason you might expect.
My Godmother was born into a prominent family in Vienna, Austria. She too was forced to flee the Nazi's, but at a younger age. She was twelve years old when she and her parents left everything behind. They escaped to the United States, where she lived in New York for many years before eventually settling down in North Carolina. She passed away from cancer in 2008.
As you can imagine, life prior to her arrival in the United States wasn't something she liked to speak of often. As I continued to watch The Woman in Gold, all I could think about was how much I didn't know about my godmother. As the plane landed, I knew it was something I couldn't let go.
The next time I saw my parents, I brought it up. That's when I learned that as the executor of my godmother's will, my grandmother had inherited several trunks of personal affects. These trunks are a treasure trove of memories that I had no idea existed. Baby photos, family albums, letters, birth certificates, passports, heirlooms and more. There's even a chest full of her mother's writing. Stories, both finished and unfinished.
While talking to my grandmother about my godmother, she mentioned that it had been my godmother's dream to be buried in her family crypt.
Digging through the documents my grandmother had, we were able to find the name of the cemetery her grandfather was buried in. I Googled it to discover that the crypt was located in Vienna, in one of largest cemeteries in the world. I couldn't believe my luck to discover that I could search for people buried there by name.
I looked for her grandfather and when his name popped up on the screen, it felt incredible. The crypt was there, just as my godmother had said. In that moment, I knew we could bring her home.
This past summer, my family was able to fulfill her last wish. My husband and I headed to Vienna with her ashes, held a small ceremony in her honour, and laid her to rest where she belongs.
I'm not sure how this story ends quite yet, at least for me. There is still so much I can learn about her from all of the letters and mementos. Things that I wish I would have asked but was too young to really understand how important her stories were and still are today. I would love to write more about her, but only if I can figure out how to do it right.
The one thing that I do know for certain is that my godmother's story has come full circle, just like, The Woman in Gold. While these types atrocities should not happen in the first place, like the painting — I'm glad she's finally home.
The following two tabs change content below.
Crystal Bourque
Crystal Bourque is an up and coming, new adult, urban fantasy author. She is obsessed with all things fantastical, so much so that she has a recurring dream about being a princess with a sword. When she's not busy writing, she loves trying new recipes, plotting her next travel destination, and singing loudly.
Latest posts by Crystal Bourque (see all)